Isn't that the name of a movie? I think it's in our
Netflix
queue. Today is your last chance to own a brand spankin' new TaDa! Creations dress.
"Three little Pigs"
ends about 11:30am CST. So sorry to be ending this on a holiday! I totally spaced that when I listed it. Yeah, I'm dumb like that. I'd say it was the cold medicine...but oh wait...I didn't start taking that until yesterday. My bad.
I've become obsessed with collages. Well, maybe not obsessed as I only just figured out this function yesterday. We'll see if I'm still making them tomorrow. Then I can say I'm obsessed. Come on, one day doesn't quite qualify me, yet. I'll just say I'm a fan.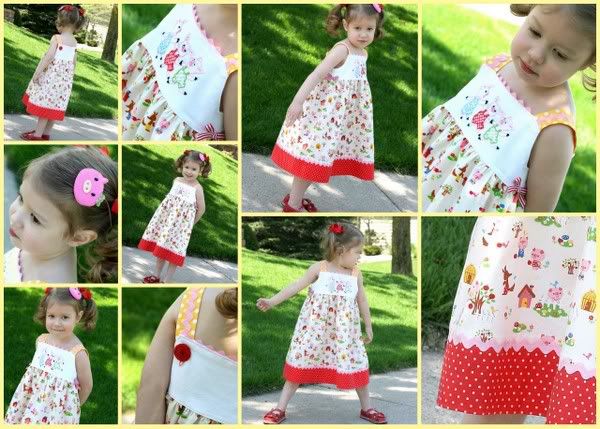 How to:
Do you have
Picasa
, photo editor? If not, you need it. Just go to
picasa.google.com
and download it. It's that simple. I love this editor because I can use it on my laptop without having to go downstairs for Photoshop6.0. I use this for blogging and little things like that. If I plan to print, then I make the trek downstairs.
Click on one of the photos in the file you'd like to make a collage of and chose to

"edit in Picasa."

When that opens up, on the bottom tool bar you can choose the

"collage"

button. It's right next to the

"blog it"

button (I need to try that one next).
Go to the

"clips"

tab (up top) and then click the

"+"

to move all the photos in your file to the right hand side. You can click on, and remove, individual photos from there if needed.
Then, click back to the

"settings"

tab and choose your lay-out (there's a drop-down arrow there). I like mosaic and grid the best. You can shuffle the photos, but so far I haven't figured out how to place them exactly where I want them.
When you're done, click on

"create collage"

and it will do just that. It doesn't get saved to your photos until you

"export"

it though.
Have fun! Once you start, you'll be making collages of everything you can get your hands on. Even outtakes. I should know, I'm
obsessed
a big fan.