One year ago today, I
started
my blogging journey. Along the way, I have had the pleasure of getting to know so many wonderfully talented women. I am so glad to be a part of such a supportive community. To thank all of my faithful readers (and lurkers...hehe) I have teamed up with my friend Erin of
The Vintage Pearl
, for a fun giveaway.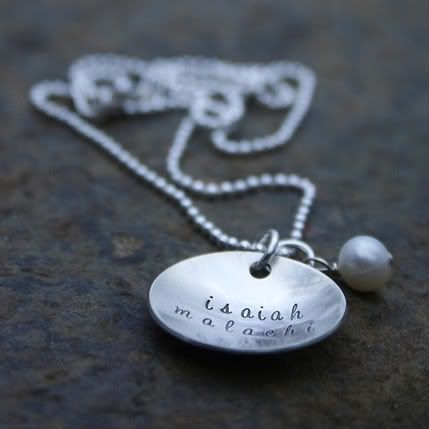 Erin is giving away this gorgeous necklace to one of my lucky readers. Yippee! I picked this design because it includes her signature pearl and you can have up to 4 names stamped on it. Gotta love that!
I especially love the domed shape of the silver circle and her new cursive font.


Wouldn't this look so pretty on you? Of course it would! But it would also make a memorable gift for say...Mother's Day, a Bride-To-Be, a new Mom, or any other special person in your life. This is the actual style of necklace you will receive, customized with the names of your choice of course.
I thought it would be fun to ask Erin a few questions, so you can get to know her better too.
Me: How did you get started making your gorgeous jewelry?
Erin: I originally started making jewelry for fun to match my sister in law's outfits (bella*tessa) on eBay. It just evolved and grew from there!
Me: What is your favorite piece to create?
Erin: I love making anything NEW, especially new pieces for Moms. I love when a Mom emails me with a new idea and together we create her a special piece that is unique!
Me: Does your family ever tire of hearing pounding as you stamp letters? LOL
Erin: YES!!!! Especially at night, after the kids are in bed and my husband is trying to unwind by watching sports or something on tv. I work on the kitchen counter, right next to the living room, so it's very loud and boy do I get some "looks" from him when I have alot of stamping to do, lol!!!!
Now...Here is what you've gotta do to win this beauty...
1
point
- Visit
Erin's shop
and come back here to leave a comment. Let me know what other piece you love in her shop and what you would do with this one, should you be the winner.
2 extra points
- Think of it as "extra credit," for signing up for my newsletter, over on the right. Let me know you did so in your comment. If you are already on there, well, you get 2 extra points too.
5 extra points
- Blog this giveaway with a link back to me and I'll give you a big 'ole hug (in blogland, that's in the form of 5 extra points :O ).
I will draw a random winner next Thursday night.