This morning the girls and I started making gifts for our neighbors. This year we are giving them bags of the yummiest pretzel candy treats. I chose them for how kid friendly they are to make. And it was fun to talk to the girls while we were "baking" about why we give gifts at Christmas.
If you've never made these, run right now to the store and whip some up tonight. They are super easy and oh so yummy. Just remember when you eat one that you are eating a whole Hershey's kiss...it's easy to forget and 20 or so later...yeah, been there, done that.
You'll need
1 bag of ring pretzels
2 bags of kisses (hugs are fun too)
1 bag of M's
2 cute helpers don't hurt either
Helper #1
Ok, so the "don't smile at me...you better not smile at me" trick works. But now I just need to get them not to open their mouths with every smile.
Helper #2
Getting ready...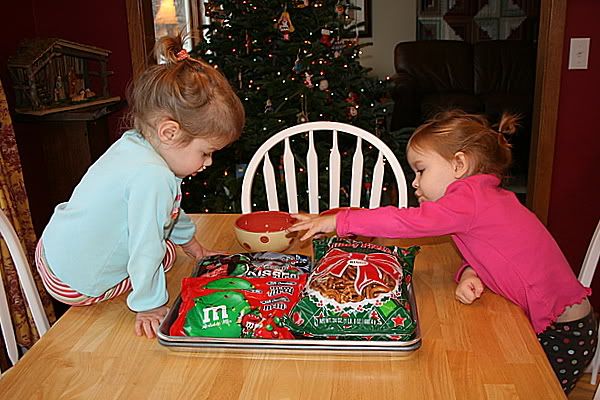 M's make a great diversion to keep the kisses from being eaten.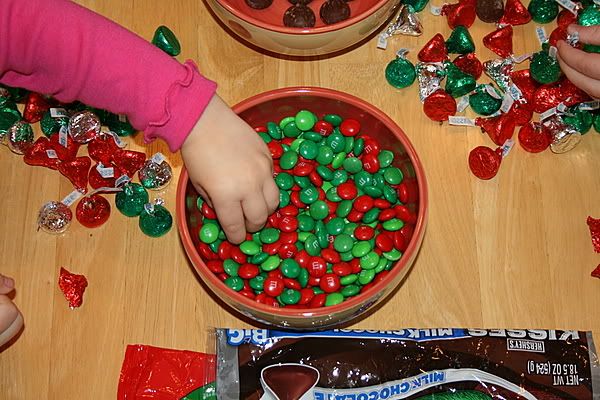 Now line your cookie sheet with pretzels and top each with a kiss. One bag of kisses will fill one sheet with 25 to spare.
The perfectionist in me only allows me to use the most perfect looking pretzels (and I even make sure they are face up). The rejects all end up here ready to be crushed for
Strawberry Pretzel Salad
.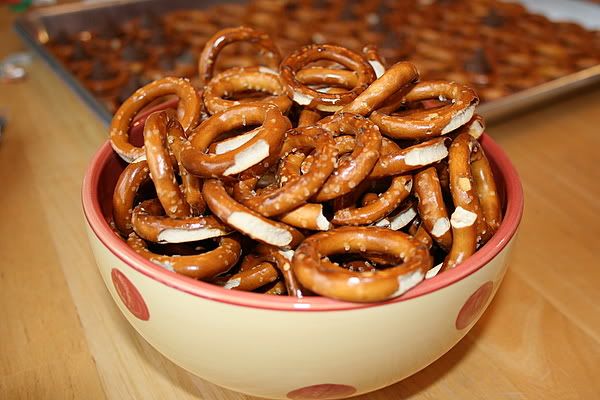 Bake for 5 minutes at 200 degrees. The kisses won't change shape, but they will be melted and ready for you to push an M into the top to make it fill up the pretzel.
Put in the fridge to cool. Then hide them or they will be gone too soon!
Eggs and Bacon alternative
Place 2 small pretzel rods a bit apart. Top with a white chocolate candy. Melt and press only yellow M's into the chocolate candy.