So the chocolate pretzel thingies didn't last very long at our house. Several someones (I'm not naming names, like ones that start with "A", "E" or "D") ate them all before they could be boxed up for the nieghbors. So...on to our next cookie baking adventure. These happen to be my all time favorite so if they disappear too then my fall back will be gingersnaps (hmmm...actually those are my favorite). I've really never met a cookie I didn't like! But I'm hoping these will be the ones left for Santa. Aren't they pretty? They remind me of Zebras.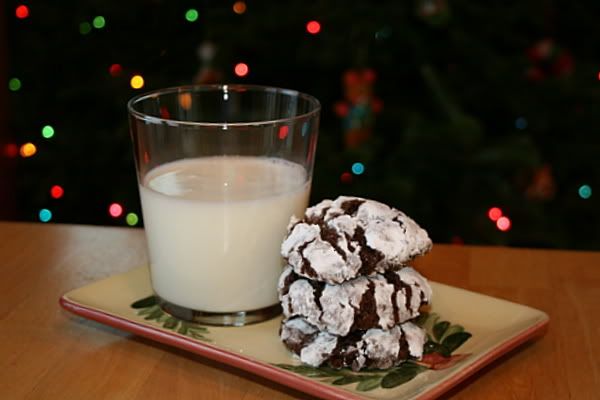 Chocolate Crinkles
1/2 cup vegetable oil
4 oz unsweetened baking chocolate, melted, cooled **
2 cups granulated sugar
2 teaspoons vanilla
4 eggs
2 cups all-purpose flour
2 teaspoons baking powder
1/2 teaspoon salt
1/2 cup powdered sugar
In large bowl, mix oil, chocolate, granulated sugar and vanilla. Stir in eggs, one at a time. Stir in flour, baking powder and salt. Cover; refrigerate at least 3 hours.
Heat oven to 350°F. Grease cookie sheet with shortening or cooking spray.
Drop dough by teaspoonfuls into powdered sugar; roll around to coat and shape into balls. Place about 2 inches apart on cookie sheets.
Bake 10 to 12 minutes or until almost no imprint remains when touched lightly in center. Immediately remove from cookie sheets to cooling racks.
**I was out of baking chocolate so I subbed 3TB cocoa powder + 1 TB oil for each square. Check the cocoa container, pretty nifty substitute and the cookies were perfect.
What's with this look? I have no idea.
No electric mixer needed for this recipe!
Just 2 sugar powered hand-mixers. Get it? Hahaha...lame, I know. ;)
What could be more fun than playing with powdered sugar?
Certainly not cleaning it up!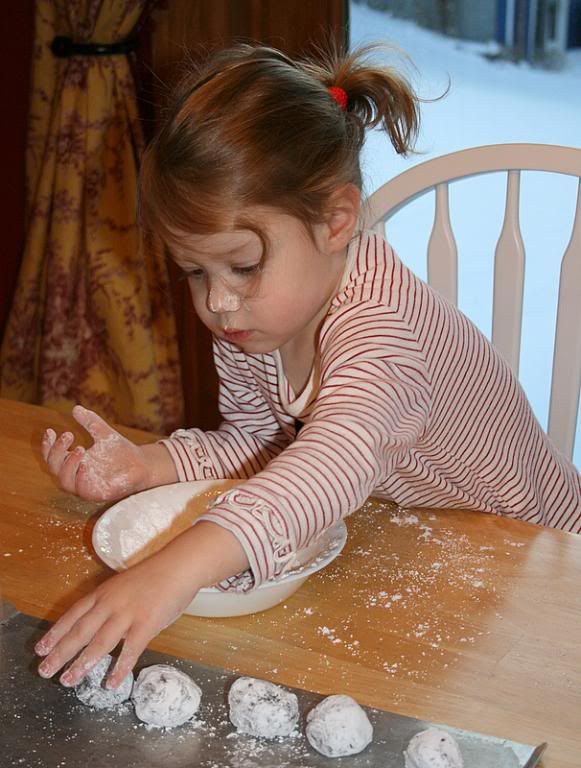 And what was Sam doing, you ask?
Why he was just snoozing away right next to us...secure in his masculinity. ;)
Now for some random shots from last week-end...
Doesn't Sam look huge on Emily's lap? I weighed him on our scale and he's 13 pounds at just 6 weeks. Now of course that's not as accurate as his Dr.'s scale will be in just 2 weeks, but it can't be too far off. He's getting to be a chunk!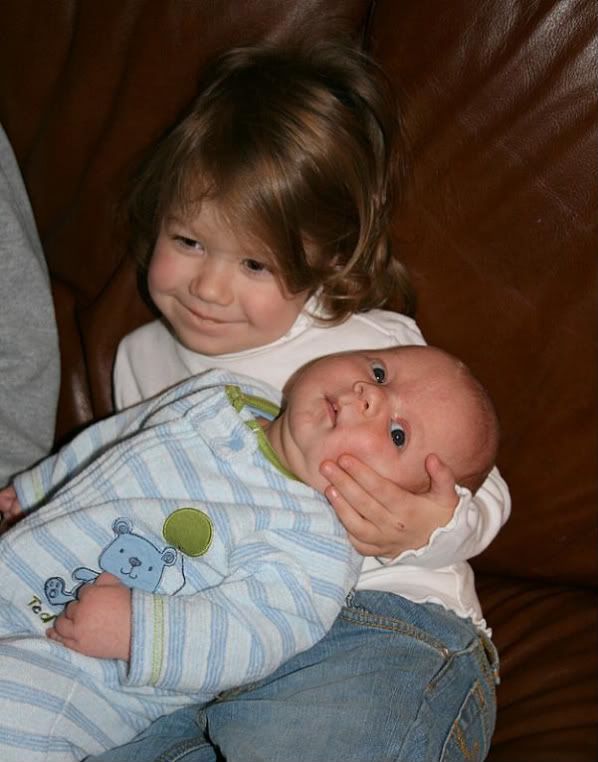 I kept catching Allison eyeing the gingerbread house we made and finally got a peek at her through my camera. This was from a kit of course, I didn't see the point of making one from scratch this year. My plan is to go all out next year like my Mom and I used to do growing up. We had windows that you could peek into to see a rocking chair, Christmas tree and fireplace dollhouse furniture pieces.
On Saturday Dave's Dad and Ella were here from FL, so all of his siblings and our nephews and brand new niece came over for the day.
I have to say that the ornaments on our tree have been rearranged by two little elves a gazillion times. I've stopped putting them back now. And threatening to remove all of the ornaments hasn't helped one bit. Her shirt should read "I want ornaments."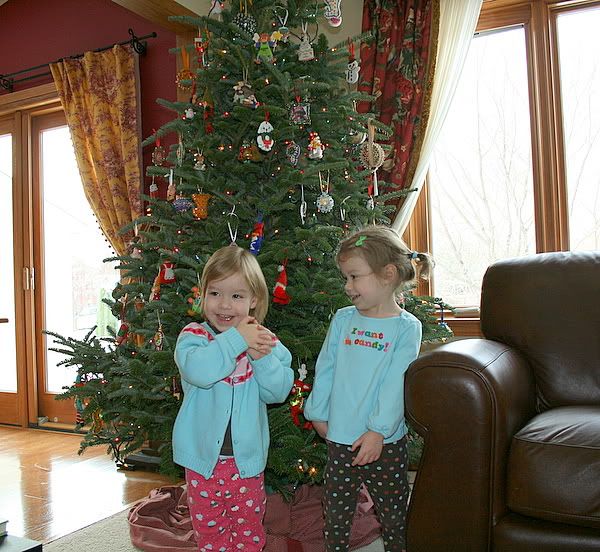 Grandpa John with Sam and his new monkey (which Allison has now adopted).