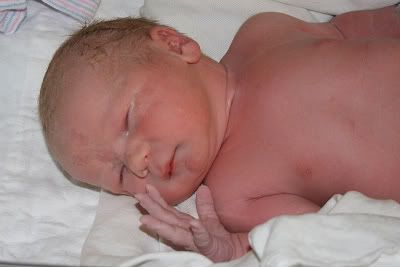 Samuel David Eagen
Born at 12:27 pm
8 lbs 10 oz
21" long

And he is PERFECT!

He has Allison's face shape and hairline, and Emily's lips and chin. And the longest toes I have ever seen. His weight and length are exactly the same as his daddy's were. Just think how much bigger our Sam would have been if I had made it to next Friday! Nursing is going perfectly and everything just seems so much less stressful this time around.
The girls stopped by for their first visit this afternoon. They are completely enamored with him. They got to sing him Happy Birthday, eat cupcakes and both received a new book from Sam ("If you Take a Mouse to School" and "If you Give a Cat a Cupcake").
Allison's comments:
He's heavy
I singing to my brother
I tell stories to my brother
And she gave him lots of kisses
Emily's comments:
He has soap on hims
He needs a bath
And she sang "Hush Little Baby" to him
I am so tired I can hardly keep my eyes open. I had been in labor since 6pm last night. I'm so glad I was able to make it until morning before going to the Hospital because David got to have a good nights sleep and I managed to get 3 hours in.