We took our little "Butterbyes" to the Zoo for trick or treating. The girls had tons of fun with their friends and it was so cute to see them all holding hands.
My biggest fear about going to the Zoo was that there would be too many kids dressed up in scary costumes and the girls would think they were real. They are at that age where they believe everything they see. At one point they both invaded the personal space of a girl, about 7, who was dressed up as Snow White. Touching her dress and just basically fawning over her in awe. That was Snow White!
Thankfully the kids that dressed up were pretty tasteful, mostly princesses and a few "bad" witches (as the girls pointed out on our way in). But the worst I saw was a Dad who was dressed head-to-toe in a reflective skeleton on a black background. For some reason we couldn't shake their group, even when we strategically stopped at the reef tank for 15 minutes and they kept walking. Ugh...it seemed like he was always staring at our kids. I was so annoyed, but I don't think the kids paid too much attention. It probably helped that I used my hands for blinders on them a few times or said "look over here" in the opposite direction when there was really nothing to see there.
All-in-all we had lots of fun and since it was indoors, we'll probably do it again on a year with crummy weather. This year it was actually a beautiful night, which is rare in MN. I hope you all had a fun and safe Halloween!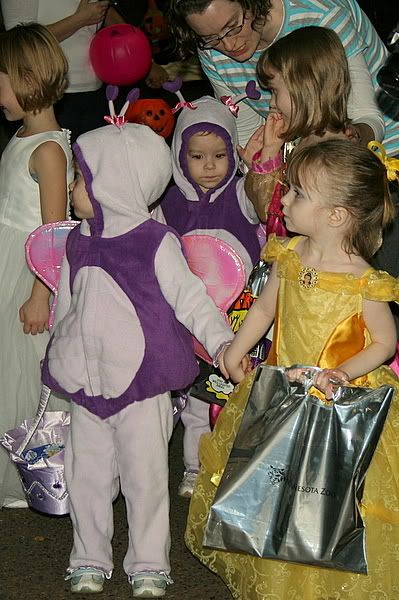 Emily dancing with her Belle.