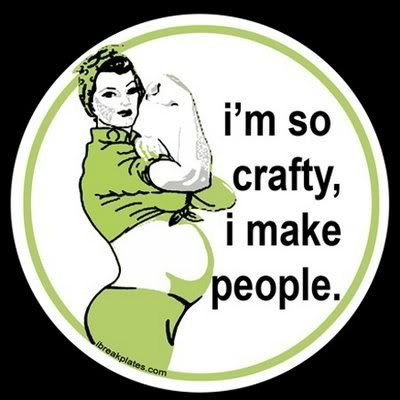 We are nearing a naming decision, just waiting for Dave to give me his top three and then we'll duke it out. Only 20 days to go, but at my appointment this week (just 2 left) my Dr. said that I could go any day. I've been having a ton of very painful Braxton Hicks and take a pill to make them stop at home saving me countless trips to the hospital. But should they not stop one of these days and I do have to go in, they won't stop them. Instead, it will be a c-section right away. So strange to hear since last time around they did everything they could to keep those little ones in as long as possible (we made it to 38 weeks exactly). So...20 days, OR LESS!!!
Today I pulled out the baby clothes and other necessities and tomorrow I will wash them all. I do need to make a stop at Gymbo tomorrow, to get at least 2 outfits for coming home in, in case New Baby is a boy. I have 2 pairs of pjs in yellow for the 0-3 month size and a few boy sets for bigger sizes but that's it or he'll be wearing lots of PINK. Next I need to pack my bag. Then there are the countless other projects I'm still hoping to get done in the next 3 weeks...5 pairs of jeans to embellish...1 top and 1 dress left to make...nursing cover-up to make...a dresser to add 2 coats of paint to...trim to sand and varnish again and help Dave install so we can finally park both vehicles in the garage...take down the trampoline for winter...cut down all the perennials but I think I'll wait until spring for that one. Carpel tunnel set in a couple of weeks ago, so I'm sure I won't get it all done, but I'll give it my best shot.
As of yesterday my mind has been racing with tons of ideas for homemade Christmas gifts this year. I've also finished several projects for the girls so I'll take some pics soon and share those too. Oh and be sure to check out Nicole's
softie doll tutorial
. Now I need to add 4 of those to my list.