CIRCUS UPDATE:
We are exhausted!!! Both girls cried and begged to go home as soon as the lights came down and the loud music started. Allison was terribly afraid of the clowns. Go figure...we thought for sure Emily would be the timid one and Allison would love it
all
. She made Dave take her out of the arena both times the clowns came in and for the first half of the show she hid under her jacket and pulled Dave's hand over her eyes. Near the end, she did do a bit of clapping and laughing though. Emily was a trooper, but the phrase I heard most from her was "I need to go home." So...we won't be doing that again anytime soon. Of course they talked about it fondly the whole way home.
I just love how these outfits turned out. This was my first time making ruched ruffles. They were so much fun, now I want to add them to everything! Can you believe I didn't applique or hand embroider on any of these pieces? A definite change from my usual. They went together pretty quickly, except for my usual indecisive nature about what to put where.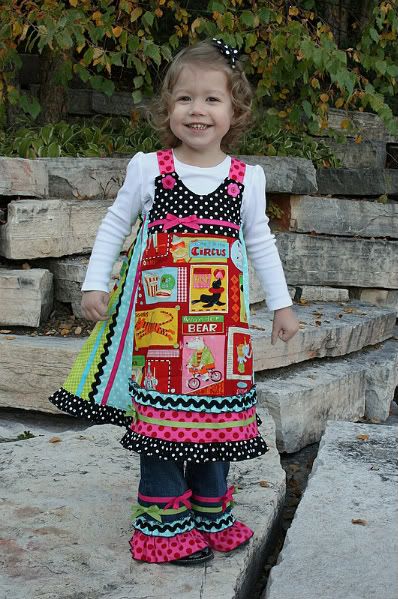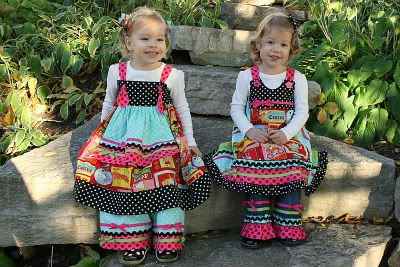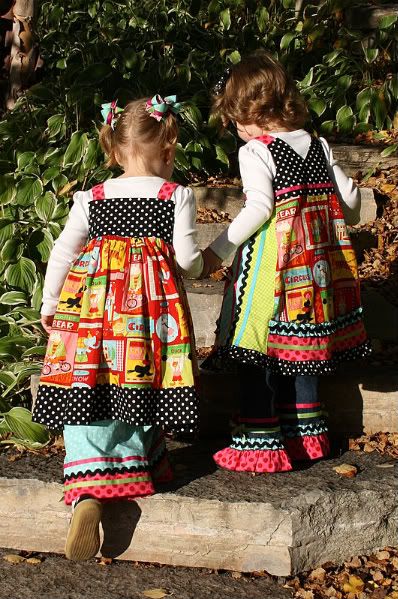 This was my favorite photo shoot so far. The girls had a lot of fun, even though it was only 53 degrees outside. And they actually listened to direction. They are getting to be such big girls! Just 3 more days before we go to the Circus...we can't wait!
I'm sure these 4 pieces will make it to my Etsy store once I'm ready to take on some custom orders.
I just finished up a pair of decoupaged jeans, made-to-match Gymboree's new Holiday Friend line too. We are off to the play area at the Mall to show them off! hehe