We have decided to choose between two names at the hospital. We'll wait a day or two and see what he looks like (if he's even a he!) and then name him. I figure there is no hurry since we'll be there for 4 days. The two final names are:
Samuel David Eagen



or



Joshua David Eagen



I have a sneeking suspicion that Sam will be the ultimate winner though. Yesterday Dave said he was saying the name out loud on his way home, just practicing. What a cutie!

So...I just had Emily draw from the following entries (Jenn, Kim and Sarah) out of a hat to see who wins the "Little Joe" video..and the winner is...

Drum role please...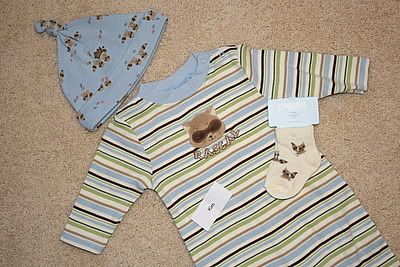 Kim...you are the lucky winner! Since I already know where you live, I'll get it to you as soon as the video arrives. Your kiddos will love it!

Thanks to everyone who contributed names to our big search. We greatly appreciated it!

I just had to take a picture of the sweet little outfit I found him at Gymboree. For now the tags stay on until I call my Mom to say, "Hurry here with the girls to meet their New Baby Brother! Oh and can you throw those boy clothes in the wash and bring them on your next visit?" It's amazing how picking out a new name, and buying some cute new duds can make me once again hope for a boy. But I know we will be truly blessed no matter who is in there! I love you peanut. ~Mom