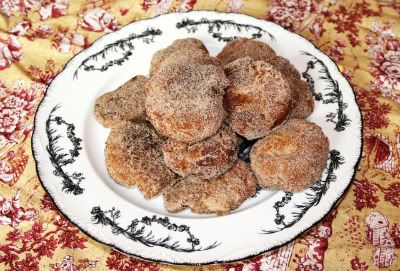 I realize that this does not look like a plate of donuts, but bare with me.
1. The prospect of making donuts after nap time is just too much to handle, making sleep impossible.
2. If there is a bowl of cinnamon and sugar around you can bet 20 little fingers will find it.
3. Rarely is perfection achieved the first time around.
4. If doughnut holes end up looking like apple fritters, don't sweat it, they taste the same.
5. They taste great as a side dish with ham when your Au gratin potatoes aren't ready to come out of the oven in time for dinner.
I am determined to get these right, it may take a few more tries, but that's just fine with me. The journey is half the fun. I'm excited about making these a fall tradition in our home. I've made notes on how to do it better next time and that next time will probably be later this week. After I buy more oil for a deeper-fry and a doughnut cookie cutter that is. We picked a peck of apples on Saturday so I have plenty to work with. Here is the recipe if you'd like to try them out.
Apple Doughnuts
2-1/2 C flour
1-1/2 tsp baking powder
1 tsp baking soda
1/2 tsp cinnamon
1/2 C sugar
3 Tb butter, softened
1 egg
1/2 C apple cider or apple juice
1/4 C milk
1 Tb vanilla
1 med apple (McIntosh or Empire is good)
oil (for deep frying)
Topping
1 C sugar
1 Tb cinnamon
1. In a large bowl, combine dry ingredients and make a well in the center.
2. In a small bowl, cream together the sugar and butter, then beat in the egg.
3. Add the apple juice, milk, and vanilla to the creamed mixture, beat all together.
4. Pour into the center of dry ingredients and stir until smooth.
5. Peal, core, and finely chop the apple, then stir into the batter.
6. Cover and chill the dough for 1 hour.
7. Working with half of the dough at a time, place it on a floured board; knead lightly, and roll out to about 3/8" thick.
8. Cut with a floured 2-1/2" doughnut cutter.
9. Heat the oil to 375 degrees in a wok or skillet; fry the dough for 1-2 min on each side, until golden brown (do not overcrowd); drain on paper towel.
10. When cool enough to handle, roll doughnuts in sugar mixture to coat.
Next time I will fry them in oil deep enough to cover the sides, but not the top. I will follow steps 7 & 8 carefully instead of rolling into balls that were too thick to cook the inside before burning the outside (those were the ones I didn't photograph). I will actually get out my thermometer and make sure the oil is the correct temp. I know mine got too hot and I couldn't cool it down quick enough on my electric stove (I so need a gas range...someday).