Last night we took the girls to the
Mall of America
for a Birthday celebration with just Mom and Dad. We started our night with dinner at the
Rainforest Cafe
, one of our favorite spots. I can't believe I forgot to take pictures while we were in there. We were seated by our favorite fish tank and ended the meal with a sparkling Volcano brownie dessert. Yummmmmm!!!
Next we browsed the Disney store in search of a specific toy they didn't carry...bummer. Then off to see the roller coasters. We rode the carousel twice and just had fun walking around and taking it all in. When we were done Allison almost had a meltdown becasue she didn't want to leave. I know the feeling.
Here are a few pictures of our night out. The girls have been talking about it all day. And there is still a Birthday party to look forward too!
Doing their best crocodile impressions.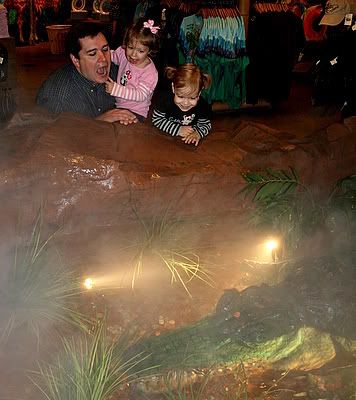 Waiting can be fun too!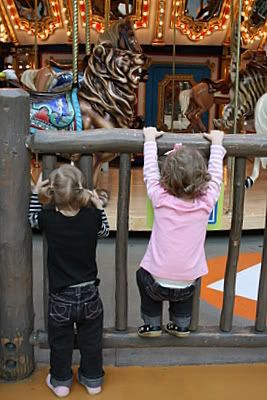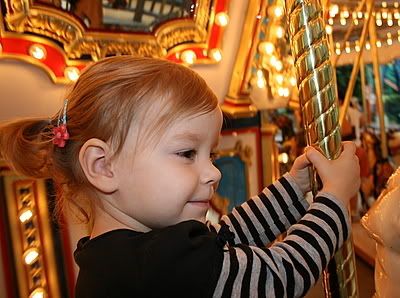 Doing her best NOT to smile.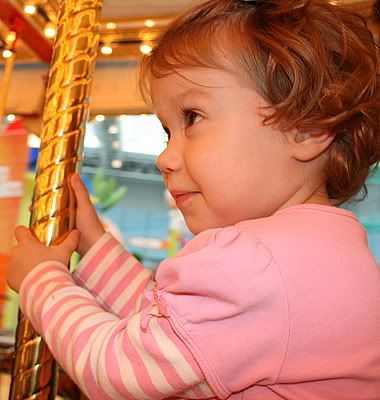 I realize that a lot of my readers may never travel to MN, so in case you haven't heard, the Mall of America has a large amusement park inside. They just transformed it from a Camp Snoopy to a Nickelodeon park (not our favorite idea). There are 3 huge floors of shopping, dining and entertainment around the park and a brand new IKEA across the street and a water park across the freeway. It's super close to the airport, so come on up for a visit, you'll love it and I'll meet you there! They are also planning an expansion to double the size of the Mall that will include hotels and more entertainment.
I love going to the Mall, and in college I worked at the Eddie Bauer there for 9 months before I was transfered to another store to be an Assistant Manager. Can't say that I loved the nights where closing at Christmastime took until 2am to re-fold every piece of clothing in the whole store, but it was still a lot of fun.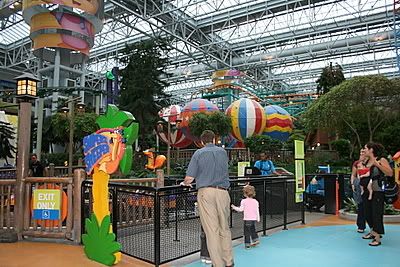 And guess what is going in this spot. It looks like it will be all 3 stories high. It's at the same entrance as UnderWater World.
Yep, American Girl is coming to MN! I wonder how old the girls should be before they can truly appreciate these dolls. I would have loved them myself, but I was born during the Cabbage Patch craze. I even had an all-cloth doll that was hand signed by Xavier Roberts. Gee, aren't you jealous?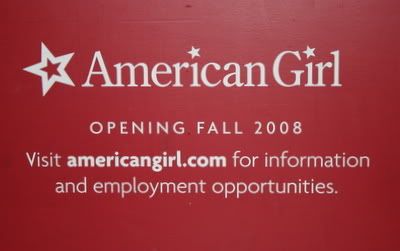 And finally I had to have a pic of the girls with me. Since I'm always behind the camera, I didn't want another big event to go by without proof that I was even there.