I have a lot of catching up to do. After being sick for 2 weeks with a sinus infection and double ear infection (me, not the kiddos), then having Dave home for a week f vacation to work on projects (another one is scheduled for August), I just haven't been able to keep up with computer stuff. To all those I owe an e-mail too (Amy, Michelle & Jessica come to mind), I apologize. It's on the way hopefully yet today.
Last week my Dear Aunt Bonnie passed away after a year and a half battle with breast cancer. I was able to visit her just two days before she passed, but seeing her like that really threw me. She was 53 and my own Mother was 34 (my age now) when she died of the same thing. I thought I was ok with it all until seeing Bonnie. The way she had changed so much, made me realize that my own 6 year old little girl memories weren't accurate. It was quite a shock to realize that my Mother had gone through the same changes and suffering and at such a young age. Anyway, I ended up not even being able to go to the funeral, instead I stayed in bed most of the day crying. I just couldn't be around other people. I feel horrible about it now, but at the time it was the only decision I could make.
On a happier note...we had a quick rain shower the other day so I ushered the girls out the door to find some puddles to splash in. By the time we found our boots and raincoats the rain had stopped and the sun came back out. They had lots of fun splashing around though!
I have also decided to list a few of my "best sellers" from last year's creations this summer. They are all full of detail (applique and/or hand embroidery). I should have known I couldn't stay away completely. Hehehe.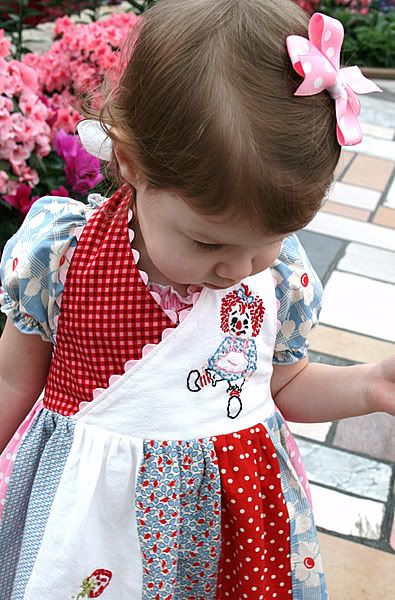 My
Raggedy Ann
sets are ending this Thursday (told you I was behind, I should have told you all about that here last week!). Sign up for my
Newsletter
so you don't miss the next two I'll be listing later this month.