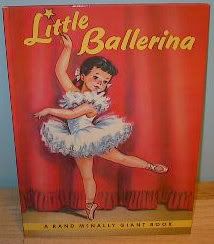 I am so excited! I won another copy of my favorite book from childhood, "Little Ballerina." A sweet story about Carol who wants to be a ballerina. Her Mother even sews her a tutu for her recital. How crafty! My copy of this book is held up with quite a bit of gold packing tape from the 70's and is in well-loved condition. The one I just bought looks to be in great condition, I can't wait for it to arrive. I never thought I would be this excited about a book I already own!

If you have never seen this book, you are seriously missing out. There are a few more
available on eBay
right now and they pop up quite often. I have the giant size by rand McNally, but it looks like it was also printed in a Golden Book size too. I've seen them go for over $30 in the past.

The illustrations are my favorite part. They remind me of the "Leave it to Beaver" days. The girls already love reading it with me and now they will each have their own copy to take with them. Here are some close-ups of some of my favorite pagesl.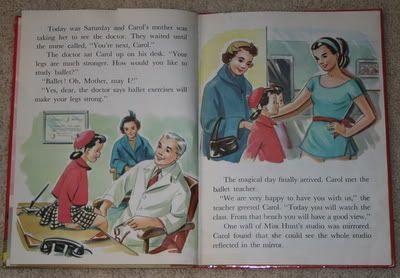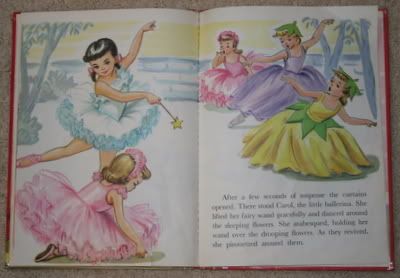 Another fun find I found (say that 10 times fast), is a
Ballerina growth chart
with illustrations taken right from this book. Of course the maker doesn't give credit to the book, but the pictures are the same. I'm not crazy about all the stars in the background, but it's still cute. And I love that it's collapsable since we don't have room for a permanent wall growth chart for the girls.



While I'm on the subject of books, here are a few more well-loved ones that you might enjoy for yourself.
I loved this one as a kid too. There are 6 scratch and sniff stickers throughout the book. Our girls learned that their noses were for smelling from reading this book with them.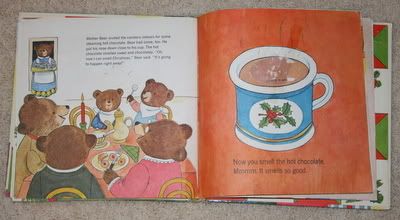 Another favorite that I can't find in our house right now is "
The Sailor Dog
." Scupper's is a very resourceful little dog who gets lost at sea. This is another personal favorite that every kid should have.