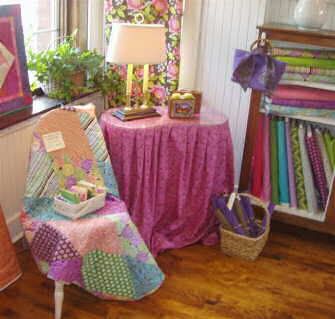 Tonight was the night! I just walked in the door and flipped open my camera to download photos only to find that I never put the photo card back in my camera. Ack...I have no photos of the cute clothesline that Lori set-up for my display or the 30 some ladies who attended. I'm soooo sad! So if anyone has photos from tonight I would love it if you would e-mail some to me. I guess you are off the hook for the group photo since I'm the only one that "took" that one.
All in all it was a fun night. My fear of talking in front of people wasn't as bad as I thought it would be. Hey, I'm the girl that would skip school just so I wouldn't have to make a speech in front of my English class (a persuasive argument). I bet you didn't know that Mom!
Thank you so much to Lori and Becky and all the wonderful gals that work at
Eagle Creek Quilt Shop
for inviting me to speak at your "All Things Baby and Kiddos" class tonight. It was such an honor to have an event designed around what I do. I really enjoyed it. And "YES" to all of you who asked "Is it really ok if we e-mail you?" I would love to help you in any way I can. Even if you don't need help, just to see a photo of what you are working on or have completed would be fun. I would also love to mentor anyone who is looking at turning their hobby into a business.
Thanks again ECQS! I'm so glad to have an adorable shop so close to home that my girls will grow up going to with Mom. I'm sure that not too long from now we'll be there picking out fabrics to make baby doll clothes with. Your store is truely such a gem!