This week's recipe is a dessert, one of my favorites! And it's "no bake" easy. Gotta love that!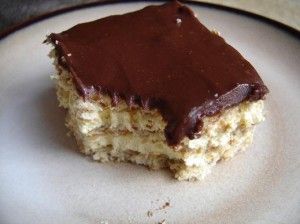 1 box graham crackers
3 C milk
2 sm pkg french vanilla instant pudding mix
1 sm tub cool whip
*Chocolate topping
1-1/2 C powdered sugar
3 Tb cocoa powder
2 Tb oil
3 Tb evaporated milk
3 Tb melted butter
1 tsp vanilla
2 Tb Karo corn syrup
Layer one sleeve of crackers on bottom of 9x13 pan, breaking to fit. Mix milk and pudding, fold in cool whip. Pour half over crackers and repeat ending with a third layer of crackers. Mix all topping ingredients together and spread over top layer of crackers. Refrigerate for 2 days so crackers become moist.


This is one of my favorite desserts to make. It tastes just like a chocolate eclaire...yummy! Very important to make it ahead of time because it really does need to be refrigerated for 2 days prior to serving.