I love to bake and just cook in general, probably a little more than the next guy. Especially if it's for a big crowd or a special event and my kitchen is clean to start with. But it's the day to day "What's for dinner?" question that I find my self saying "How about pancakes again?" I have that partially solved, but I will save that for a later post (hey, I've got to fill this blog with something don't I?).
I have never understood the fascination with Red Velvet cake. I mean the name is intriguing, but when I look at the recipes it doesn't seem like it could live up to all the hype (people choosing it for their wedding cake, etc...). So...since I've never actually tasted it before I thought yesterday was the perfect time to try it out. You see, A was walking around saying "I need cake Mommy" and we had just replenished our butter and powdered sugar reserves so I knew I could fulfill that wish.
Paula has never let me down before so I eagerly picked her
recipe
and the girls happily took their viewing spots. I loaded their trays up with lots of "Yummy M's" (that's M&M's) to keep them occupied and set off to bake the perfect cupcakes.
Anticipation
Surely something this red can't be good for you!
I will never make it as a food stylist. LOL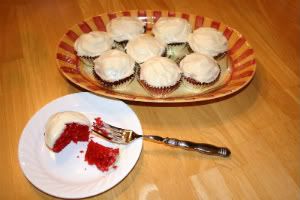 After all that, I still don't see what all the fuss is about. They didn't taste quite like what I had hoped for. But hey, put cream cheese frosting on anything and I'll eat it (maybe even cooked carrots). It could be that I baked them too long, or because I used the old vinegar and milk replacement for buttermilk trick (hey, it works for pancakes). But I am willing to give it another try in about 32 more years (umm...make that 33).